Company Visit: UC 2.1 Grazing cow monitor and UC 5.1 Pig farm management
The Belgian Institute for Agricultural and Fisheries Research (ILVO), partner in use case 2.1 Grazing cow monitor and use case 5.1 Pig farm management, has been visited by 66 employees of the department of agriculture and fisheries. During a company visit to the Agricultural Engineering department of ILVO they came to see the latest projects and developments and hear something about the different facets of the ILVO activities, Technology & Food Science Unit. We set up a program with some general presentations, after which the visitors were divided into smaller groups for a guided tour around different places in the building. During this tour our guests visited demo's, the laboratories, got a workshop and got a more specific explanation about several projects. This included a stand of the IoF2020 project, with demo materials and introductions to UC 2.1 Grazing cow monitor and UC 5.1 Pig farm management.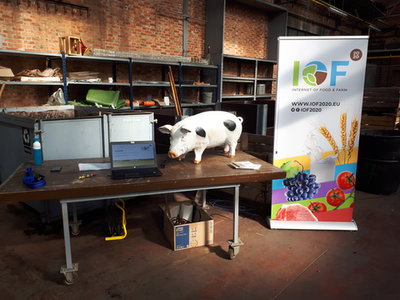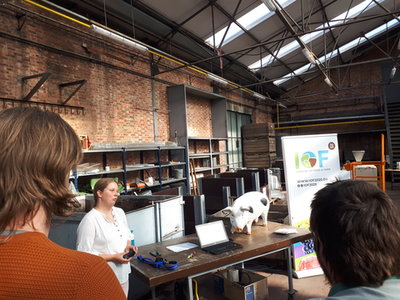 The guided tour past different places and people was very well perceived! Small groups allowed for interaction and specific questions on cost-benefits, application readiness, future work needed, etc.. Having sensors on the table to show what they look like has a very big advantage, enabling the audience to relate much more to the product than with just a presentation.
Everyone was very enthusiastic about the cutting edge activities at ILVO and the IoF2020 project and the conclusions of the visit were very positive. The developments of the use cases seemed very relevant, innovative and beneficial to the farming sector. Also, the digital innovations are warmly welcomed by the department.
Usually public events and demo activities are mostly held at day, but the European Researchers' night enables researchers to present their work in a different and unique setting. During the European Researchers' Night Demo activity 21.000 researchers from 30 European countries present their work simultaneously in over 370 cities. The last edition was visited by over 1.5 million people.
European Researchers'night: UC 4.5 Digital Ecosystem Utilisation in Cyprus
The event was organized during the European Researchers' Night and it took place at the Filoxenia Conference Hall in Nicosia, Cyprus on September 27, 2019. The target group was researchers, academics, students specifically and the public in general. More than 10,000 joined the general Researchers' Night event.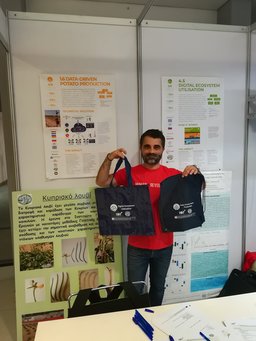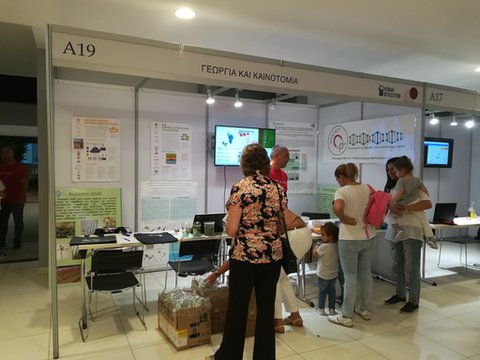 At the booth of the Agricultural Research Institute (ARI) we had a small section where we had a video presentation, two posters and promotional material about the pilot 4.5 Digital Ecosystem Utilisation. People who passed by the booth and were interested to find out more details about the IoF2020 use cases were informed by ARI staff members. Following the presentation and our answer to any questions, we were asking them to complete a questionnaire and fill in the participants list.
It was very promising to see the positive reactions and attitudes towards the IoF2020 project in general, and smart agriculture and IoT sensors and their benefits (optimization) in particular. Especially the responses from researchers and (multidisciplinary) university students showed promise. One general comment was that it would be good to organize a targeted demonstration event in the field with farmers and researchers to demonstrate this technology. This is something that we intend to do in the near future.
European Researchers' Night: UC 4.2 Chain-integrated greenhouse production
The IoF2020 Use Case 4.2 on Chain-integrated Greenhouse Production - Almeria, Spain was in full display on a well-attended, balmy September evening. Within the region of Andalusia, 30% of the participation in this European-wide demo activity corresponds to Almeria, where almost 600 scientists participate. Usually our Demo activities are on farms, but this night was an opportunity to bring science to society, where literally thousands come out to see first-hand what innovations are being developed. One of the most crowded stands was that of the IoF2020 UC 4.2 Chain-integrated Greenhouse Production, led by the "Automatic Control, Robotics and Mechatronics" R&D group, along with the Cátedra COEXPHAL-UAL. Different systems were demonstrated to the general public: mobile robots, agricultural software and hardware, manipulators, 3D printing, etc.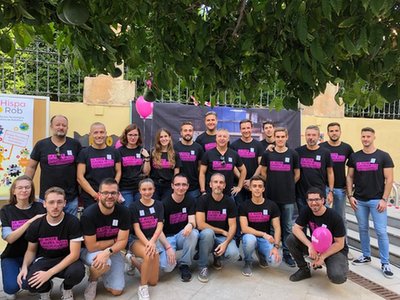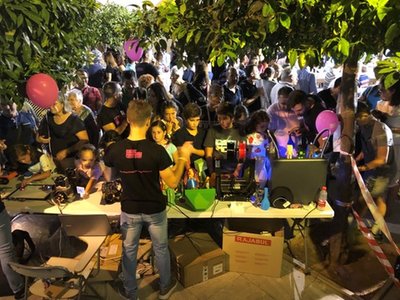 The main objective of this demonstration has been to attract young students to ICT, Engineering and Science studies, and to showcase to the general public the main value and results of ongoing projects like IoF2020 and SmartAgriHubs, in which the UAL also participates. The Spanish Minister of Culture visited the IoF2020 stand, accompanied by the Mayor of Almería, the Rector of the University of Almería and other authorities. The different Demos were explained to them and we discussed the relevance of the IoF2020 project in the future of agriculture in Almeria, and in Europe.
We have received interesting feedback from a diverse crowd, in which both younger and older generations were represented. Most of them were not aware of the challenges that our greenhouse intensive agriculture has to face. Also, many did not yet know much about how technology can help to produce more with less resources and support a more sustainable approach to providing safe and healthy vegetables.
Bringing science to society: day and night exhibitions and demonstrations
Presenting innovative research to the people can be done in many ways. Whether it's through presentations, demo activities or company visits: it is always a good thing to open the doors of research to the public. This helps in creating understanding for the importance of research and innovation, and it can feed researchers with new insights and ideas as well. In this section some Use Case partners share with us their experiences with presentations, demo activities and company visits.