Social distancing needs to be practiced over a longer time due to corona virus
Farmers receive many visitors to help with various tasks at the farm. And all these people need to practice social distancing: the contractors during harvest, the veterinarian, the feed supplier, the quality control manager and so on. Many of these tasks benefit from digitization, which is why IoF2020 was set up in the first place. Thanks to digital tools, any tasks can be done remotely that used to be carried out at the farm. Less people need to visit the farm in person, which saves time and helps to prevent the spread of COVID-19.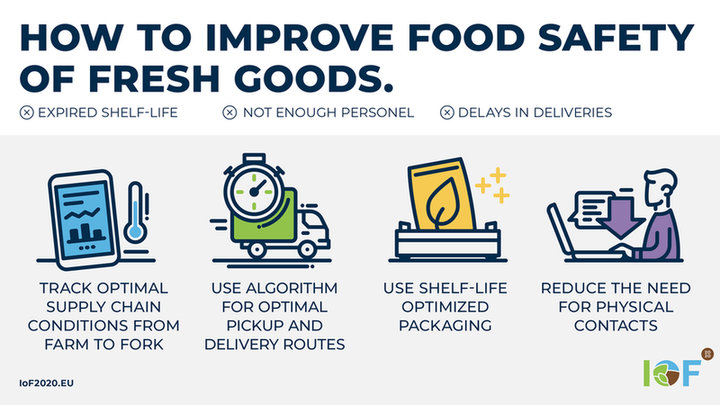 Social distancing through IoT technology
Sometimes a product turns out to be a solution to a problem it was never designed for. More bang for your buck so to say. Take Use Case 1.7 for example. 'The social distancing measures made us discover benefits of our IoTrailer that we never thought of before', says Use Case coordinator Francis Verhelst from Lambrecht Trailers. So how does it work? How can an IoT solution help people working in traceability for food and feed logistics keep their distance from each other?
''Our solution helps to continue all food and feed deliveries and monitor them from a distance.''
IoTrailer, the product developed within Use Case 1.7, uses IoT technology to authenticate the transport of bulk goods with zero risk of contamination. A fully automated silo detection system guarantees that bulk food and feed is delivered to the right silo and registers the delivery details. Thus, the solution helps to prevent waste, silo cleaning and additional transport kilometres caused by wrong deliveries. IoTrailer also guarantees the farmer that his animals eat the feed in accordance with the requirements of his certification.
Now that contact between people needs to be limited as much as possible, the digital transfer of load and delivery information has an important additional benefit. Since the whole journey from feed producer to farm silo is monitored remotely, no paperwork is needed anymore. The need for drivers to contact the logistic manager is also eliminated. And farmers don't have to indicate the right silo or sign the delivery notes either.
Francis: 'Our solution helps to continue all food and feed deliveries and monitor them from a distance. COVID-19 will probably reinforce remote monitoring and the digitization of logistic processes.'
- The IoF2020 COVID-19 Task Force about Use Case 1.7