Gender Task Force, Gender Equality Week and #GenderFriday
Internet of Food & Farm 2020 and SmartAgriHubs work together in the Gender Task Force. This task force to ensure that their respective ecosystems, as well as affiliated organizations, are gender-balance aware and inclusive. We published a joint newsletter this year.
With the Gender Equality Week, the topic was pushed forward by both IoF2020 and SmartAgriHubs. By sharing testimonials and resources on our website and social media channels, we renewed our commitment.
We are now continuing our action in 2 ways: with #GenderFriday and our search for Gender Equality Ambassadors.
With weekly social media publications under #GenderFriday, we make sure that gender related issues remain one of our key topic.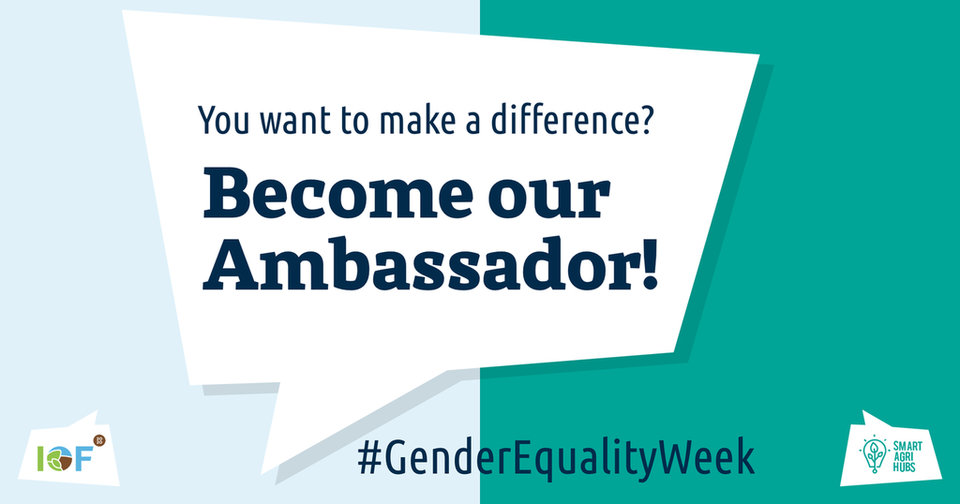 We also want to include the perspective of individuals. We are looking for a motivated individual, who can share their experience and best practices. Our Ambassador will help us to transform the Agri-food community into a more inclusive and gender-balanced sector. As an Ambassador, you will be included in communication and training programs, network events ... You will have the opportunity to make a difference at a higher level.
If you are interested in becoming our Ambassador or if you would like to get more information... Let us know!